Teachers are minor characters in Yandere School. They help enforce the school rules of the high school.
When you play as a teacher in Nightmare 2, all the teachers will tell you that they regret drinking too much the last night.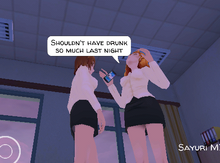 Gameplay
When teachers witness homicide and know Akari is the murderer, she will be apprehended by the teachers, who will induce a "Game Over".
Ad blocker interference detected!
Wikia is a free-to-use site that makes money from advertising. We have a modified experience for viewers using ad blockers

Wikia is not accessible if you've made further modifications. Remove the custom ad blocker rule(s) and the page will load as expected.