Nightmare 1 is the first nightmare in Yandere School.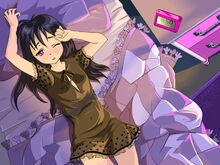 Gameplay
In Nightmare 1, you play as Akari, who wants to murder both Meisa and Makio. A katana is present at the front of the school for Akari to use against them. Once her mission is complete, Akari will wake up.
Trivia
With Tips mode on, Meisa Ito and Makio Sono are both outlined in red.
Ad blocker interference detected!
Wikia is a free-to-use site that makes money from advertising. We have a modified experience for viewers using ad blockers

Wikia is not accessible if you've made further modifications. Remove the custom ad blocker rule(s) and the page will load as expected.