Angelina Ivanova is the second rival in the game. She makes her appearances only in Chapter 2 and Nightmare 2. She comes from Europe and will ask the player to show her around the school, prompting a chance to murder her.

Appearance 
Angelina Ivanova has shoulder length chestnut-colored hair and blue eyes, and wears a black headband. Her lips are colored pink. Her stockings are see-through and black, with a lace pattern. These stockings are unlockable if the player completes Chapter 2.
Personality
She is obviously quite friendly and flirty.
After class on her first day she tells Makio Sono that he's handsome and she should take a closer look. She then invites him for tea after school.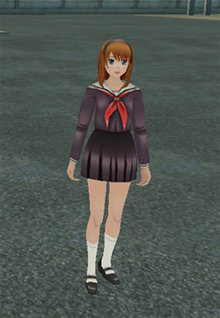 Ad blocker interference detected!
Wikia is a free-to-use site that makes money from advertising. We have a modified experience for viewers using ad blockers

Wikia is not accessible if you've made further modifications. Remove the custom ad blocker rule(s) and the page will load as expected.